If you need a disinfection that works around the tightest schedule and budget to keep you on the road, introduce the NEW SteraMist Transport system into your (vehicle). Using globally trusted ionized Hydrogen Peroxide disinfection in a mountable case and applicator, SteraMist delivers countless hospital-grade disinfection benefits over mainstream competitors tailored to your mobile space:
A full 360° vehicle fog with no long-term surface damage over daily use, providing a high log kill on contact on microscopic threats.
Fully-programmable automation and profile storage that lets you set your vehicle's unique, optimized runtime with one-touch operation.
High, non-corrosive compatibility with surfaces commonly found in mobile spaces, including vinyl, plastic, aluminum, wood, steel, and so much more.
SteraMist's EPA-registered combination technology and solution for consistent results after every run. 
Disperses a mist designed to fill mobile spaces of any size, consistently reaching every hidden corner to both disinfect and deodorize.
Whether you integrate us into a brand-new or existing rig, the SteraMist Transport system takes the guesswork and extra labor out of your routine for maximum flexibility.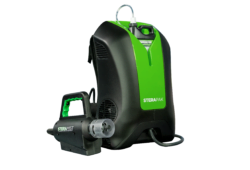 Every aspect of the healthcare system, including emergency transportation and urgent care facilities,...