While most customers will want to select their own equipment to meet their specific needs, often it is useful to have a starting point which addresses the fundamental needs for confined space rescue. To that end, Skedco has combined what we believe to be essential items into a Confined Space Rescue (CSR) Kit. The customer is free to add or delete rescue items from the kit to acquire the appropriate equipment for their situation. Skedco recommends that competent rescue professional be consulted to address the specific requirements of any potentially hazardous environment. The Sked-Evac CSR Kit is available for hole depths of 25 feet, 50 feet, 75 feet, 100 feet, or can be custom ordered for any depth.
Each SKED-EVAC® CSR Kit includes:
SK-700 Sked-Evac Tripod
SK-701 Sked-Evac Tripod Bag
SK-200-OR Sked Basic Rescue System
SK-300-OR Oregon Spine Splint II
OP-2029 Ambu Collar Kit (4 adult adjust, carrying case)
SK-720-xx Skedco 4:1 Rescue Kit
OP-202822 / OP202824  CMC Fire Rescue Harnesses (2 Each)
SK-740-xx Tag Line
SK-740-xx Belay Line
SK-911-12 Skedco 12′ x 3″ Anchor Sling
SK-731 Continuous Loop Sling
B17 PETZL Handled Ascender
A10 Y PETZL Vertex Best Helmet, Yellow (2 Each)
SK-730 Skedco Ascending Stirrup
SK-732 Rope Pad
SK-993 24″ Rope Guard
SK-206 Large Locking 'D' Steel Carabiners (6 Each)
Kits are available for hole depths of 25′, 50′, 75′ and 100′. Skedco 4:1 Rescue System contains four times hole depth plus 30′ of 1/2″ PMI Rescue Rope. Tag and belay lines contain hole depth plus 25′ of 1/2″ PMI Rescue Rope. Replace xx with hole depth to designate kit preference. Hole depth should be determined by measuring from the top of the tripod to the bottom of the hole. Skedco reserves the right to substitute brand equals for items not identified by a catalog number.
The kit comes with two CMC Fire Rescue Harnesses which available in two sizes:
OP-202822, size small/medium, 26 – 34 in (66-86 cm)
OP-202824, size large/XL, 34 – 46 in (86-117 cm)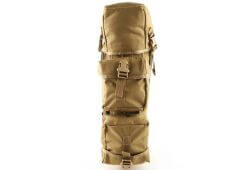 Fire/flame retardant protection was achieved through the use of a CARBON X® inner...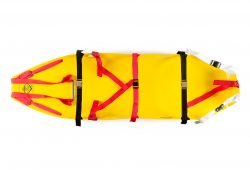 Upgraded with stronger buckles!!! This litter is designed for use in mass casualty...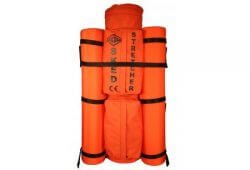 The Sked® Complete Rescue System – International Orange combines the Sked® Basic Rescue System...