Fire/flame retardant protection was achieved through the use of a CARBON X® inner liner followed by a layer of VILENE insulation, and two layers of 3000 denier KEVLAR®. The outer most storm layer uses 1000 denier coyote brown CORDURA® nylon providing overall durability to the bag.
The bag is compatible with standard or jumbo D aluminum or steel oxygen cylinders. Cylinders are held in place by a web matrix constructed entirely of KEVLAR® webbing and secured with 3000 lb. tensile strength SKEDCO Aluminum Side-Release Buckles. The aluminum buckles serve two purposes; they are stronger and more durable than traditional plastic side-release buckles and the aluminum construction prevents sparking in an oxygen rich environment. All materials critical to the integrity of the bag are sewn exclusively with KEVLAR® thread.
Sufficient storage space is provided throughout the bag along with accommodating one oxygen cylinder. The oxygen cylinder retention sleeve has a flat pocket designed to store oxygen administration guidelines. The oxygen valve and regulator protective flap provides internal storage for two 60" securing straps provided with the bag that allow the bag to be secured to an approved evacuation device or platform tie-down points. Two detachable MOLLE/PALS general purpose utility pouches provide storage for the CPR-EMXbt Oxylator or equivalent, pocket mask, non-rebreathing mask, extension tubing, and oral and nasal pharyngeal airways.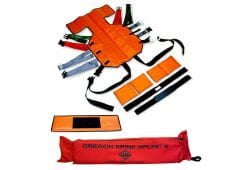 Choice of the U.S. Army, this spinal immobilization/extrication device is the only device...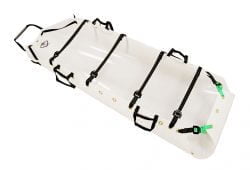 The Bariatric Sked Stretcher is designed to move obese patients through difficult areas...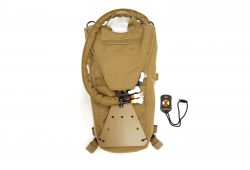 The HydraSim® provides the illusion of external hemorrhage at the point of injury....