This system includes everything necessary for rapid evacuation of mass casualties in a chem-bio environment. Because we never know how far away we can get from the Hot-zone we are including continuous loop twisted polypropylene ropes,1 each, for distances of 100 ft., 150 ft. and 200 ft. Longer ropes are available by special order. This kit allows as many as 4 rescuers in level A to work in the Hot-zone on a major incident. There are 2 Skeds for each rescuer in level A. There are also 4 clean Skeds for moving patients from the warm zone to decon to prevent dragging contaminated litters outside the area. Free videos are available.
Note: It would be advisable to have a shower system between the hot and warm zone to drag patients through to initially decon the patients and litters. This will be extremely important if they need to wait any length of time before going through the decon station. Ambulatory patients can also walk through it.
This kit consists of:
12 HMH Sked Stretchers & 3 rapid deployment bags
Skyhook Rope Winch System (SK-2530)
Bagged continuous loop rope 200ft. distance
Bagged continuous loop rope 150ft. distance
Bagged continuous loop rope 100ft. distance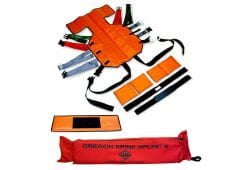 Choice of the U.S. Army, this spinal immobilization/extrication device is the only device...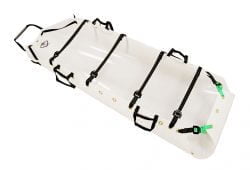 The Bariatric Sked Stretcher is designed to move obese patients through difficult areas...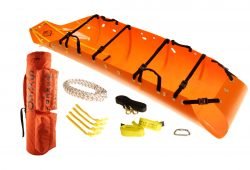 The original and still the best rescue stretcher for confined space, high angle...