Technimount EMS Introduces the Most Flexible Mounting System for Air Critical Care Transport
Manufacturer
Info
Technimount EMS ("Technimount"), an affiliate company of Technimount System and leading provider of mounting solutions for medical devices, is proud to introduce the Xtension ProTM Assistant – LP, a unique and innovative mounting system to secure multiple medical devices during Air Critical Care Transport.
The Xtension Pro Assistant – LP is a flexible mounting system for the management of multiple medical devices on cots which improves Air Critical Care Transport operations. It integrates Technimount's universal mounting system widely used among Emergency Medical Services in North America, ensuring a seamless transition from air to ground emergency transport up to hospital environments. Designed in compliance with the highest industry standards for air transport, this system significantly improves the safety of patients and crews.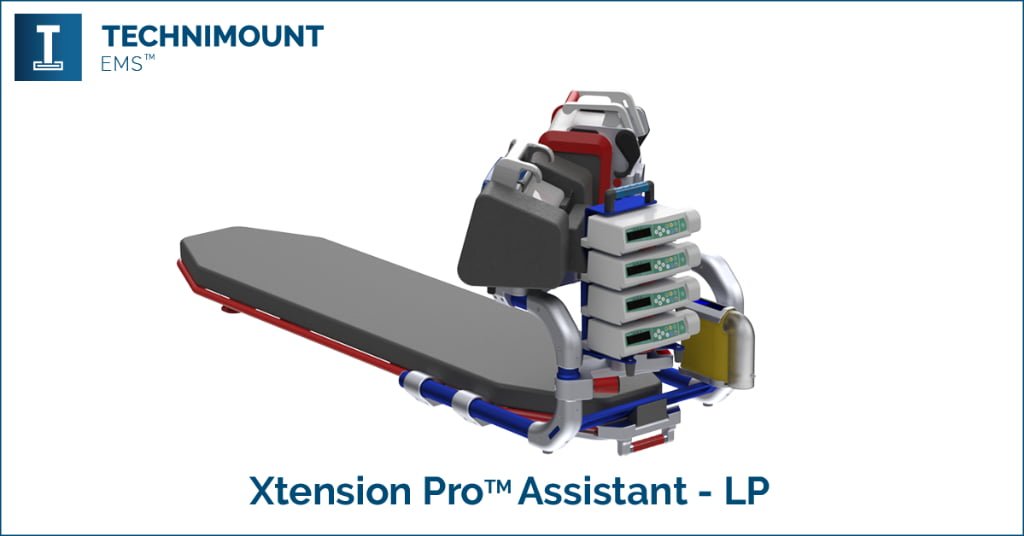 The Xtension Pro Assistant – LP was developed by Technimount Engineering (Technimount Design Inc.), Technimount System's affiliated division responsible for new product development and product improvement. This innovative mounting solution integrates important features highly appreciated by Critical Care Transport teams, such as a two-sided open structure that facilitates lateral patient transfer from bed/stretcher to cot, while the medical equipment remains installed. It improves interchangeability between medical devices as configuration can be customized according to the type of transport or protocol. With the use of Technimount's Red Quick Release Mechanism, the mobile structure can be easily removed from the cot, allowing the critical care team to be more efficient in managing equipment and to concentrate on what matters most, patient care.
"We had the opportunity to work closely with Air Critical Care Transport teams from the early stages of this project, which provided Technimount with first-hand insights that are essential in the development of innovative solutions that make a difference in their everyday practices." said Carl Bouchard, President and CEO of Technimount System. "We were able to integrate all these insights to the expertise we have gained over the years working with emergency ground transport services and the result is the first mounting system that can transition from one application to the other, improving patient care and safety during transport."
Compliant with FAA, 14 CFR 23, the Xtension Pro Assistant – LP has been successfully certified on Pilatus PC-12 aircraft and clearance for several deployments in North America is in process.