The ZOLL AED 3 BLS defibrillator provides high-quality rescue support for both adult and pediatric sudden cardiac arrest victims.
Designed for professional rescuers
Designed for professional rescuers, the ZOLL® AED 3® BLS defibrillator guides the delivery of high-quality CPR and is one of the fastest AEDs in the industry to deliver a shock after chest compressions stop. These are two critical components to increasing an SCA victim's chance of survival.
ZOLL AEDs set the benchmark for reliability and dependability, empowering rescuers around the world to help save lives.
Real CPR Help
The ZOLL AED 3 BLS defibrillator provides Real CPR Help®, which helps providers deliver high-quality CPR by providing audio feedback and displaying the actual depth and rate of each compression on the CPR Dashboard.
The CPR Dashboard also shows elapsed time, CPR cycle countdown and shocks delivered. Real-time CPR feedback visibly and audibly indicates when rescuers are administering high-quality CPR.
"ZOLL defibrillators equipped with Real CPR Help – providing real-time feedback for depth and rate of the chest compressions – combined with training more than doubled the chance of survival from cardiac arrest."
-Bobrow B, et al. Annals of Emergency Medicine. July 2013; 62(1): 47-56. 31
Integrated pediatric rescue
Pediatric rescue is made easier with ZOLL's Pedi-padz® II pediatric electrodes and the ZOLL AED 3 BLS defibrillator's Child Mode setting. Voice and text prompts and an illuminated Child Mode display indicate when the device is configured for a pediatric rescue.
ZOLL's pediatric-specific algorithm analyzes and delivers child-appropriate therapy without the use of an attenuator.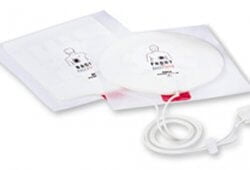 ZOLL Stat-padz® are the fastest, easiest-to-use multi-function defibrillator electrodes and are optimized for emergency resuscitation situations....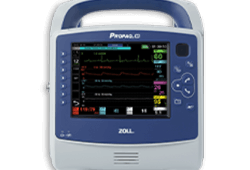 With over 25 years of experience manufacturing resuscitation technologies for the military, ZOLL® continues...