Reyco Granning's R-Series ServiceMaster suspension is the fast and easy way to upfit your Chevy/GMC with an option the factory doesn't offer.  Upgrade to the outstanding performance and safety of a drive-axle air suspension.  This system provides the benefits that the factory leaf spring suspension cannot:
Kneeling- On command, exhaust the air to significantly lower the tail gate for easy loading and unloading of gear and passengers.
Improved Ride- Maximum comfort and unmatched protection of precious cargo.
Managed Chassis Height- The height, ground clearance, and driveline angles are all maintained regardless of payload.
The system provides everything you need and is designed to accommodate the packaging of all factory chassis systems without need for welding or costly modifications.  For example, we use lateral pads to react cornering forces, eliminating the need for a traditional transverse rod mounted between the axle and frame.  This arrangement permits frame cross members, fuel tanks, and exhaust systems between the frame rails. It further eliminates the need to weld an expensive transverse rod bracket on top of the axle.  Field-proven for over 20 years, the R-Series conversion kits are custom designed for the GMC 3500 Chassis Cab, for use with constant load on rear axle (like an ambulance).  The fit is precise and the bolt-on kit installs in half the time of the leading competitor.
The R-Series® and AirMaster® can be purchased separately or they can be purchased together to form a TransportMaster® system, click here for more information.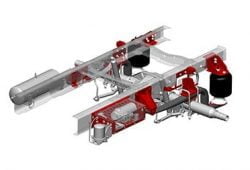 Click here for R-Series model matrix The new TransportMaster® line combines the durable...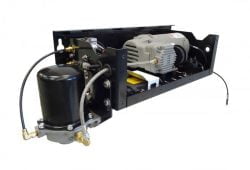 The AirMaster® by Reyco Granning is the latest air control system for suspensions...
Reyco Granning's R-Series ServiceMaster suspension is the fast and easy way to upfit...