The Quantum Blood & Fluid Warming System is THE prehospital solution for fluid resuscitation. Recent studies have shown that the delivery of whole blood or IV fluids without optimal warming presents a significant risk factor for the onset of hypothermia in trauma victims*. Even a small decrease in body temperature, can interfere with blood clotting and increase the risk of bleeding to death. Once conditions deteriorate it is difficult to reverse. Be proactive & take immediate action where it matters most – at or near the point of injury with the lightweight, powerful Quantum.
*Risk factors for onset of hypothermia in trauma victims: The HypoTraum Trial Lapostolle et al. Critical Care 2012, 16:R142
Capabilites:
Delivery of 2 units of 39°F (4°C) Whole Blood at 100ml/min with an output temperature of 100.4°F (38°+/-2°C) on a single battery charge
Warm-up time – 24 seconds
Lightweight & Portable – 22 oz total
https://www.narescue.com/quantum-blood-fluid-warming-system.html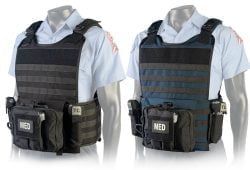 The practical solution for Fire and EMS personnel in active shooter and mass...