Panasonic Introduces the TOUGHBOOK 40
Manufacturer
Info
Panasonic Connect North America, Division of Panasonic Corporation of North America, announced the launch of the TOUGHBOOK® 40, a fully rugged, modular laptop that brings together the reliablity and ruggedness of the TOUGHBOOK brand, modernized with more innovation to deliver unparalleled power, speed and connectivity to support the evolving needs of mobile workers in today's digitally transformed world. TOUGHBOOK 40 is over a pound lighter than the previous generation despite having a larger display, delivering the perfect blend of rugged strength and extreme performance. Along with the deployment and sustainment services provided by Panasonic ProServices, the TOUGHBOOK 40 allows customers across law enforcement departments, federal agencies and utility companies to improve efficiency and reduce operational costs.
With a 14" FHD touchscreen display, the TOUGHBOOK 40 increases readability and usability for workers outside of the traditional office, like military personnel needing to decipher precise and intricate plans. The TOUGHBOOK brand pioneered the configurable and modular design, and now with eight modular user-replaceable locations including four expansion (xPAK) areas, as well as the battery, memory, storage and keyboard, customers have even more options to customize and protect technology investments as needs shift, and modernize at the speed they desire. This allows enterprises and agencies to build technology ecosystems that are robust, productive and cost effective.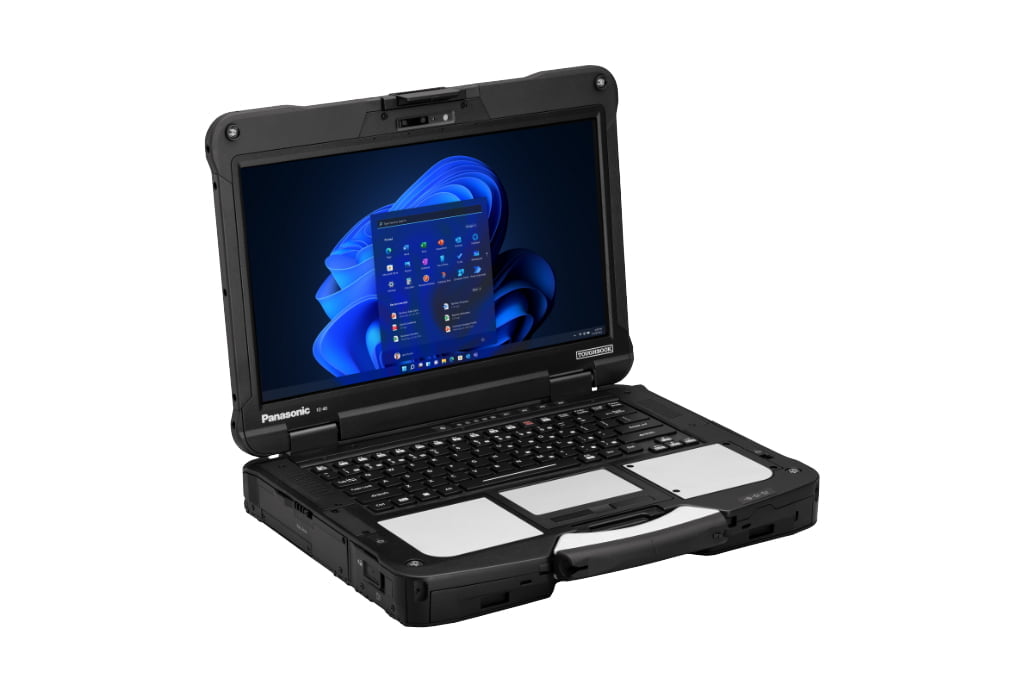 The enhanced processing performance and wireless capabilities of the TOUGHBOOK 40 provide reliable connectivity for important jobs – whether restoring a community's power lines after a storm, responding to an emergency situation or communicating critical information during a military operation. The TOUGHBOOK 40 is delivered with 11th Gen Intel® vPro® processors, with optional AMD dedicated graphics* or Intel® Iris® Xe Graphics boosting computing power to process large amounts of data, images and video feeds in real-time. With the increased use of video conferencing – whether for telehealth or remote services – the TOUGHBOOK 40 boasts the first 5MP webcam in its class. It features a privacy cover for security and infrared capability to support Windows Hello facial recognition.
To support workers anywhere the job takes them, ranging from dense urban environments to rural communities, the TOUGHBOOK 40 features multiple cellular and connectivity optons, including a 4G modem or 5G modem*. The 4G modem supports LTE, LTE-A and speeds up to 2 Gbps. The 5G modem supports 4G (LTE, LTE-A) as well as 5G (mmWave, C-band, Sub6) and speeds up to 5.5 Gbps. It seamlessly connects to the best available network without any disruption or intervention by the user. Both 4G and 5G modems support FirstNet® (band 14), CBRS Private LTE (band 48) and have dual SIM (physical SIM + eSIM) for maximum flexibility.
"The TOUGHBOOK team is laser-focused on supporting the mission-critical jobs of our customers who work in the most extreme environments, and the new TOUGHBOOK 40 provides them with the perfect balance of performance, modularity, durability and innovation," said Craig Jackowski, GM of Product Management at Panasonic Connect North America. "This is our most rugged TOUGHBOOK laptop ever and it was designed and engineered uniquely for customers across the enterprise, public sector and federal agencies, leveraging their direct feedback and experience to provide a world-class solution combining hardware, software, accessories and professional services. With up to eight user-replaceable and upgradeable areas, The TOUGHBOOK 40 combines power, ruggedness and flexibility to elevate the customer experience now and into the future."
The TOUGHBOOK 40 provides advanced docking support to meet the needs of customers today as well as the next decade in an ever-evolving mobile work environment. It features the industry's first quad pass-through connectors. Additionally, it offers 4×4 MIMO, faster USB and Ethernet ports to maximize performance, and is the first to offer software selectable pass-throughs for each antenna to give users the flexibility to select the optimal combination based on their needs.
TOUGHBOOK customers work in extreme, hectic and loud environments where sound quality is directly impacted. The TOUGHBOOK 40 provides superior voice accuracy with its tetra array microphones and class-leading 95db speakers. Designed with the user experience in mind, the TOUGHBOOK 40 also features improved screen brightness, a color-selectable backlit keyboard, and backlit power button and keyboard icons for easier night viewing in low-light environments. Programmable buttons enable fast access for seamless workflows to boost productivity and a redesigned interface makes it easier than ever to adjust. For enhanced flexibility, Panasonic also reengineered the resistive touchpad to be 60% larger while still being usable in the rain or when wearing gloves.
If operating in a more data-sensitive industry like a federal agency, the TOUGHBOOK 40 comes standard with encrypted OPAL SSDs (FIPS is optional), the choice of five different authentication xPAKs, TPM 2.0 and Intel® Hardware Shield. The TOUGHBOOK 40 is also a certified Microsoft Secured-core PC, prioritizing security needs of emergency service professionals, military and law enforcement officers. Secure Wipe is a new feature introduced to the TOUGHBOOK 40, which wipes the contents on the drive in a matter of seconds, rather than minutes or even hours.