Manufacturer
Info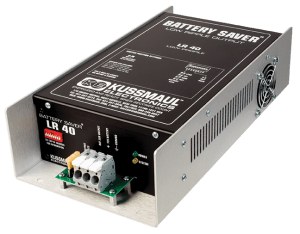 Announcing our new Kussmaul Battery Saver Low Ripple VHO (BSLR), Product # 091-256-12.
The BSLR with 40 Amp output, is designed for the rigors of emergency vehicle use. The solid state circuitry removes the auxiliary loads from the vehicle battery and prevents battery discharge.
Clean, low ripple output, presents no interference with sensitive electronics, along with fast acting relay that ensures "glitch" free power transfer. The Battery Saver also has user selectable output voltage settings and a low profile, heavy duty case.
Kussmaul Electronics, a leader in Emergency Vehicle power products manufactures a line of well-known shore power eject systems, such as the Super Auto Eject for quick response applications.
Each Unit carries a 3 year warranty
List price is $736.50
For more information, please contact:
Valeria Donoghue
Marketing Manager
Kussmaul Electronics
(800) 346-0857 ext. 118
FAX: (631) 567-5826
Email: marketing@kussmaul.com